This interview with William Bolcom, which took place on June 29,1986, also included the participation of his wife, mezzo-soprano Joan Morris. Bruce Duffie says: "As with some other musical couples that I've interviewed, on occasion they both responded to my questions together back and forth, and I was perceptive enough not to interrupt!" 
They were in Chicago for the Grant Park Music Festival, which was giving performances of his Songs of Innocence and Experience, a more than two-hour setting of poems by William Blake for soloists, choruses, and orchestra, which was premiered in 1984 in Stuttgart, culminating twenty-five years work. 
Grant Park is an annual summer festival which takes place outdoors on the lakefront in downtown Chicago, so some of the comments in this first meeting reflect that situation. 
 . . . . . . . . .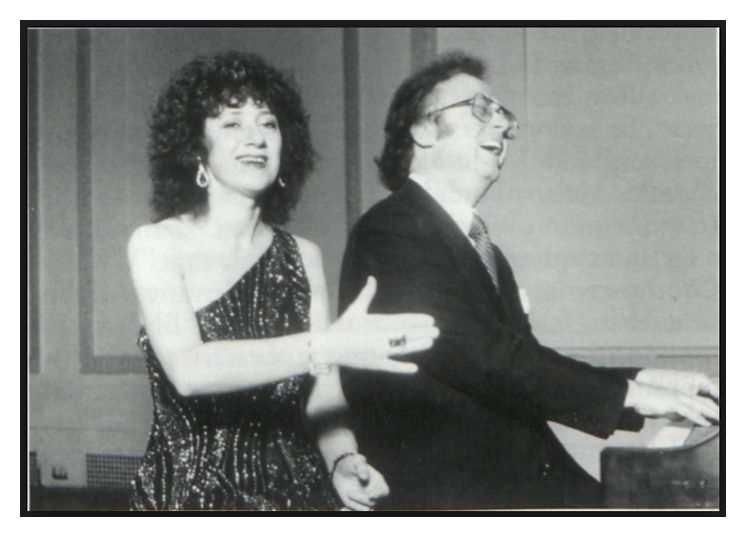 Bruce Duffie: I was going to make a separate list of questions for you as composer and as performer, but then I wondered how you separate the two — if at all? 
William Bolcom: Absolutely, I don't. I consider myself a 'musician'. I've always been a 'musician'. I've always thought that's what I did — I compose and I perform — which, in a way, is a restoration of the earlier non-classified, non-specialized way of doing music. I still feel that I compose, and this is my major activity, what I want to do the most and certainly the one that is the most time consuming. 
BD: Yet in many circles you're more well-known as a performer. 
WB: That depends on what kind of world you're talking about. I'm becoming more known as a composer, but you're right, of course. Certainly I have a national reputation — if that is what you can call it — with my wife, Joan, which I have enjoyed. That has been from our records together and our performing careers, there's no question about that. This is not a time where a modern composer is extremely known or revered or followed, particularly in this country, and I'm afraid it's not that much better in Europe. But that wasn't the reason we went into performing. We've always wanted to do that. One of the things we wanted to do was to perform, and we have indeed performed over the last fourteen years, and had a wonderful time doing it. 
BD: As a composer, what do you expect from the public that comes to hear one of your pieces? 
WB: A fair hearing. I hope they like it. This is a piece [Songs of Innocence and Experience], has probably something in it for everyone. This is true with the Blake poems that I took them from, and this is an experience which I've been producing with the Grant Park people who've been wonderful in every way. 
BD: Is this going to be recorded? 
WB: We're hoping to, but there's going to have to be some foundation or other financial support because the total costs they're estimated to be around to half a million dollars when you count the cost of the recording, the artists' fees, and all the other things involved in a production of this size. There are 290 people performing here in Grant Park. So we're trying to raise the money, and of course it will never make a big profit because this is serious music. I'm not Michael Jackson. But it's still worth doing, and there are many people who are doing something about it. It seems to have been the piece of mine that has had the most response, and at least it elicits the most curiosity for people. 
BD: Would you ever be surprised if you record sells as much as Michael Jackson? 
WB: [Laughs] Well, I'd be delighted. That means I wouldn't necessarily have to do some of the things I have to do to make a living! That would be very nice, and I wouldn't mind it. But I don't know... whatever happens will happen. One can never deal with these things as any expectancy. It's not the same thing as, say, putting out a new line nail polish. 
BD: If you had all the money that you needed, what would you do — just compose all day? 
WB: Probably, but I still would want to perform with my wife. I would miss that audience response. It's very important to have some kind of one-to-one connection with people. I like that. I like looking at faces. I don't always want to have the electronic medium between us. In fact, in that way I'm diametrically opposite to Glenn Gould, for example, who didn't really want to have those people out there. 
BD: Is it important, though, for a composer — yourself, or any contemporary composer — to get their pieces recorded? 
WB: It's the only way that they get disseminated in a time when we don't have an amateur culture to pick up a piece of music and read and try to learn it that way. That's one of the things the composers of the past could reasonably depend on, so that kept the whole publishing world going. Today it's a marginal business, and it's basically really for the delectation of musicians who often as not just Xerox a thing from the library instead of buying new copies. We really don't make any money from that, but it's not even that. It's a question of getting your pieces disseminated. When you can buy a recording, people will because it's a more natural thing to do, and it presents a fantastic range of possibilities today. It doesn't necessarily matter whether it's CD or mono or 78 or 33. Just the fact that you can buy a performance and have it at home is so different from any other time before us that it has changed the whole business, and it's changed the whole world of music, too. In certain ways it's made it more passive, and I'm sorry about that. I love the idea of everybody who is somehow involved with a particular art also practicing it. Poets have that, and many people who follow poetry are also themselves poets. But many people who follow music are not in any way involved with doing music. 
BD: This brings me to one of my favorite questions. For whom do you write? 
I write for myself and I write for everyone else in the world. Realistically I know everyone else in the world is not necessarily going to hear everything or anything that I write, but I hope to reach other humans. That's the main thing. I never have thought of myself writing for a particular public. In fact, I want to cut across any of those classifications. I'm sorry for all of the classes that people put themselves into. In the end you get boxed in. I want to be a human being at large, and I hope in a strange way that everyone else will pick up that spirit from whatever anybody like me will do. 
BD: At whose doorstep can be lay the blame for putting these major divisions between the kinds of performers? 
WB: It's probably the mercantile spirit. As in French, you don't mix up the dish towels with the napkins. It's an old saying, and we seem to find the same need to classify. We've had that notion, that mentality, for many, many years. It's the nation of shopkeepers that we are. [With a mock-stern tone] We have to put things in niches and they have to stay there, by God. If they have to move about, then they are suddenly very dangerous and they won't stay put. That's the part that's too bad, because anything that's really interesting is going to be volatile. So I guess we just have to find out whether we can somehow make other people feel equally antsy about always having to stay in classes. That's what I'm hoping to see happen. 
BD: [With a gentle nudge] So now can we slap the 'crossover' label on you??? 
WB: [Laughs] I hate that because that would be honoring these classes even more than ever. I'd rather transcend them than be a 'crossover' person. My own objection is to all these people talking about 'fusion' and 'crossover' — assuming that those classifications are watertight and are somehow God-given. I don't think that's true. That's just a hand-over we have put on things, and if we begin to believe in our own nomenclature, that's too bad. It boxes everything in, and I don't like that. 
* * * * *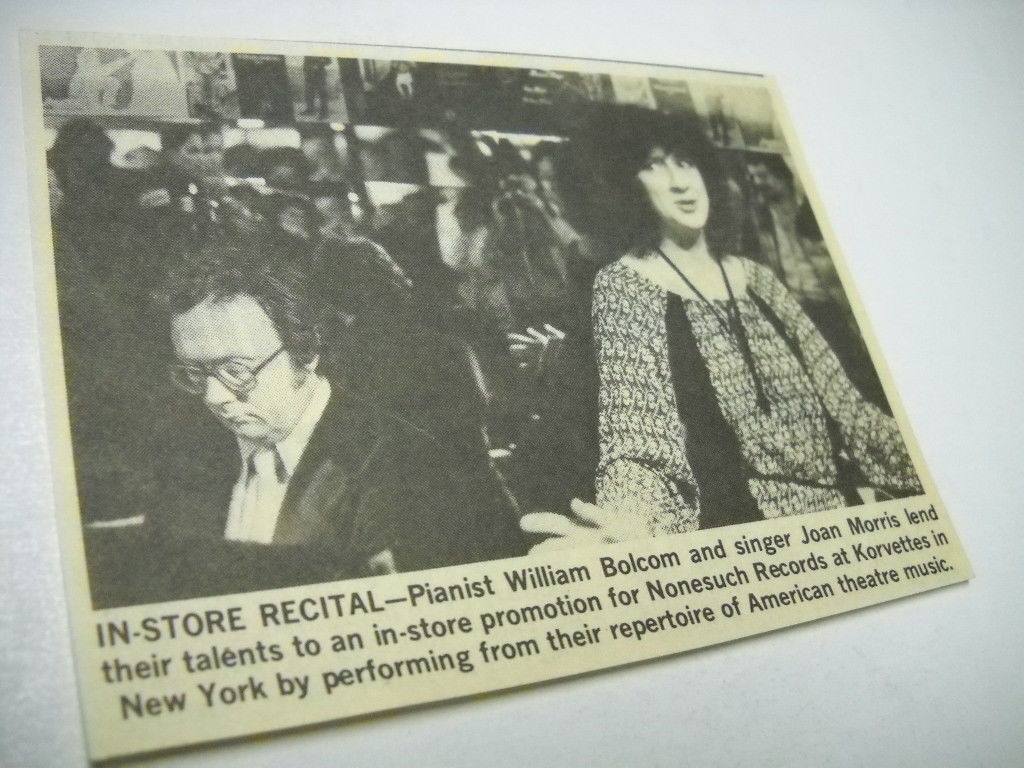 BD: Do you perform differently for the microphone than you do for a live audience? 
Of course! Everybody does. We try to find a different kind of compromise, however. Just recently we've made two live recordings, both of which are on RCA, and we had forty, fifty, sixty people out in front of us. We would record the same song maybe three times, and out of that you have various takes, so they can cut it as they might. You will hear audience response, and I like that. That makes it a do-able human experience in all kinds of ways. It also means that you have a certain kind of 'momentariness'. Sometimes the way that people record these days — in which you can edit anything in or out or sideways, and so forth — all the imperfections are simply just moved out. It's okay! I don't mind recording like that, and for certain pieces it is absolutely right to do things like that. But for other things I like a little looseness. 
BD: Has it become too sterile? 
WB: I think so. 
BD: Does it ever become too perfect? 
WB: I think so, yes, and I don't think we need that. We need the engagement of immediacy of a certain kind of moment with something happening right now, and that's the thing you can often lose in a recording. 
BD: How do the two of you decide which songs you will put into your repertoire and which songs you will not? 
Joan Morris: This is why we don't like to print a program. We like to be responsive, and when we come to a town we find out what the sponsor would like to hear. Maybe someone will tell us at the last minute that they hope we're going to do such-and-such. Then, at least we know there's one song someone out there wants to hear. Also, it keeps it fresh for us, and we can put in new material that we're trying out. Some of the songs we've recorded, and it's always interesting to me to see which ones stay in our repertoire, and others we don't seem to do much after we've recorded them. Some we tend to do quite a lot that really are the classics for us and the audience response is the most rewarding. 
WB: And every audience is different. The one thing you're trying to do is psyche out the difference between one audience and another, so we usually try to go to a place enough in advance — say the day before — to be able to talk to the people who've hired us, to get a feeling for the place a little bit. Then we think about it, and as late as we dare we put together our program. In that way, every program is a bit different. Sometimes we will do a lot that seem a little light, but there'll be certain ways that we will subtly slide it toward the people who you've gotten to know a bit. 
JM: It also depends on the hall. 
WB: Yes! 
JM: We just played the Ordway in St. Paul, which is 1,800 seats and has a wonderful sound. But there you do numbers which you want to do in a big space, that really reach to the furthest corner of the audience. Maybe you wouldn't do 'The Physician' [by Cole Porter] because all those words are going so fast. Some of it might get lost in that space. If it's a more intimate hall, then we characterize the program that way. 
WB: This doesn't preclude the possibility of taking a very large place and turning it into a small place, just by willing it. You can do that. 
JM: Oh, that's fun, too! 
BD: So you feed off the audience wherever you are? 
WB: Absolutely! 
JM: Sure! 
WB: We want to look at their faces, if at all possible. We like to see them, and every so often you'll see somebody out in the audience that [pretends to be excited] goes just like this, so excited and just jumping up and down! It's like balm to you. You just feel all this terrific energy coming back, and you're not exhausted. Other times they just sit there like a bunch of potatoes, and it's very hard to move them. Then when you come out, you're exhausted. 
BD: What about an outdoor audience? 
WB: This week we did two performances outside in Grant Park, and it was absolutely lovely. 
JM: Even on that rainy day! 
WB: On the Friday, just the stalwarts came out in their yellow raincoats, and they sat there and they jumped up and down, and they applauded, and they were just great. I loved them! 
JM: [Nodding] Yes, very much so. 
BD: Are you constantly looking for new material? 
JM: Oh, sure. I'm always interested. Even with all the research and reading I've done, there's always new things you come across — new old things. For instance, a dear friend of Bill's [Peter Winkler] wrote a revue [Professionally Speaking] that got produced off-Broadway this season, and he showed us a song from this several months back before the show went into production. That song, called Tamara, Queen of the Nile has really enlivened our current program.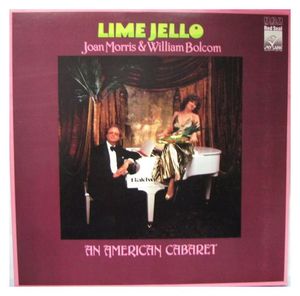 WB: In fact, that's part of our new recording called Lime Jello. That is a song which I wrote for encores, and it really has been fun. We've done that encore, Lime Jello, Marshmallow, Cottage Cream Surprise, in halls all over the United States and Europe, and it always gets the same mad response. It's terrific fun to do, and that became the title of the album because people are always asking when we were going to record this thing. So we finally we did, with a collection of a lot of new cabaret-styled material by many of our friends and other people. Sheldon Harnick has done wonderful things over the years, and we've done three or four of his songs, as well as things by Winkler, Leiber & Stoller, and other people who are not as well known for that, like Dick Hyman, who is a wonderful composer as well as an arranger. 
BD: So you're not looking for just new 'old material', you're looking for new 'new material'? 
JM: Yes, that's right. 
WB: As much as anything else, certainly. We tend to look for things that are not as well-travelled. We've never had any great desire, for example, for going into Rodgers & Hammerstein because lots and lots of other people are doing that. I don't see any reason to beg comparison. On the other hand, when you're talking about something like Gershwin or Cole Porter, which we're hoping someday to record, it's a matter of trying to find things that we really like, and not at the same time eschewing standards. Those are great things that are great and well-known because they really do deserve that. 
JM: It's that way with all the greatest songs, even with classical pieces by Schubert or Brahms. They can stand the newest interpretation. Every artist brings their own special thing to it, and I hope that I bring something, at least one little spark of something to every song that maybe nobody's thought of yet. 
BD: Do you ever drop a song by Schubert or Brahms into your recitals? 
WB: I have been known to do that. 
JM: The year my voice teacher died we did some Brahms in New York in our program... 
WB: In her memory. 
JM: ...because she had actually played for Brahms when she a girl in Vienna. Once in a while we'll do some Ives, b 
ut, sometimes we get asked to do concert programs. For instance, we'll do an all-Gershwin program in Pasadena, so there you make it special. Sometimes in Canada they love the old songs. It's true, you don't hear those as often as, say, Gershwin or Berlin, but that material is in our purview at the moment. 
Right. But we've done many anthologies on records. We just came out with a second anthology of Berlin Songs for Nonesuch. The first one was on RCA, and it's something we like to do. We like to explore composers' or songwriters' viewpoints, so we look at everything we can find to see if there's a whole record in there. We find their face after doing a number of songs. 
BD: Why is it that the two of you seem to be the only ones doing this kind of thing? 
WB: Oh, I'm not sure that's true. There are a few others around, and there are other people who are really fine artists who are known for other things, who have also done anthologies. There are some more now... 
These things have never completely died, but I know what you mean. There's not the attention. It's like ragtime. It takes a while for people to have the distance to look back at it and appreciate it, and understand the role it plays in our history, and that these things shouldn't be allowed to completely die into oblivion. These are the tunes that are in the consciousness of us all, like 'Wait 'till the sun shines, Nellie'. Maybe the youngest kids that haven't come across it, but it's just part of our consciousness. It's what shapes our language and the way we approach life. 
BD: Do you want the audience that goes to a Michael Jackson concert to also come to hear your concert? 
WB: Why not? 
JM: Sure! 
WB: It's not uncommon. We'll find people out there who are very big on all kinds of music — omnivores — young people who have been fans of the one also like the other. People are cutting across in their tastes a good deal more than they once did, and I think that's great. 
JM: Old people come because, "Oh, I remember that," and the kids are, "Wow! That's great." 
WB: Then they'll come back years later, and they have gotten all those records. That's when they ask really searching questions about this and that, particularly in places like Canada. They don't just come back and tell you how much they like the concert; they tell you about their research on a particular person, or they'll ask whether you know about such-and-such details. Sometimes they'll be much more on the facts than we are. We forget! [Both laugh] 
JM: A man in Interlochen told us a wonderful story about May Irwin one time. We do the 'Frog Song' of hers. She also introduced 'After the ball', and she was a favorite performer of Mark Twain. So we did one of these songs and he said, "I have to tell you, I lived in one of the buildings she owned on Lexington Avenue! She was one of the few women who saved her money and took a lot of money out of Vaudeville. She had come to visit us after we'd moved in, and was chatting with us. She said, 'My name won't mean anything to you, but your parents knew me.' As she was leaving, she said, 'Well, boys, there's only two things to do on a rainy day, and I don't play cards!'" [Much laughter all around] 
* * * * * 
BD: In your composing, do you feel that you are part of a line, a lineage of composers? 
WB: Oh, gosh, I don't know. There are certainly composers whose music I respond to, and they range considerably. 
JM: Ives maybe? 
WB: I would say Ives, but I would say at the same time I feel very strongly connected with people like Gershwin, and Scott Joplin, and my teacher Darius Milhaud, and Alban Berg, and an enormous number of people who I respond to. I don't know whether there's any real sense of lineage. We're not the Viennese tradition where Schoenberg could say that he was part of another tradition. You really have to understand him in that light to understand the music. We have never had a real absolute kind of tradition, but we do have a popular tradition which I'm very interested in and have always cared about, and that's very much part of the background that we've had. One of the things that may make me unusual amongst American serious composers is that I've always been interested in incorporating all that, which in a way takes me back to the Classical Period. This is what you'll find in Haydn. 
BD: Do you want your music to last? Do you expect your music to last? 
WB: I hope it does. So far, certainly it's had a certain amount of longevity. I was just talking with one conductor who is going to be doing my Commedia in Brussels. That is an orchestra piece which has been played several hundred times, which is very unusual for a contemporary work. Much of my stuff which has been played gets played and played and played. For example, the performances here of the Songs of Innocence and Experience will be the fourth and fifth performances. For a piece that size that's very unusual, and there are three more slated at the Brooklyn Academy in November [conducted by Lukas Foss], and there are other people who will be doing it, like the BBC, and the Philadelphia Orchestra. Those are not definite and the dates are still not clear, but with the luck this piece has had, they will be done. That's an unusual thing and it's very encouraging. 
JM: When you were orchestrating all those years, and finishing the piece, you had your doubts. "Am I ever going to see this piece done? It's so humungous! Is there going to be a group that will really want to take it on?" 
WB: Yes! And here more than one group has done it, and all from different venues. That's what's interesting. We've had a German opera house in Stuttgart, my university in Michigan, and here in a park concert situation. Then Brooklyn Academy of Music will have an entirely different thing because it's going to be the Brooklyn Philharmonic with the Next Wave Festival, and that's an entirely different way of doing things. So that's in itself is very interesting, and very encouraging that it doesn't have to be done just one way in one situation with one audience and by one kind of house. 
BD: So let us broaden the idea even farther. Where's music going today? 
WB: Milhaud had a wonderful answer. He said, "The history of music is the history of the music of the next great man or woman." I think that's pretty good. There was no absolute line. The one thing I would never want to do is predict anything, but I will say that I have noticed among younger composers — mine, or from other places — is that they are interested in a more inclusive attitude. I remember when I was their age it was an exclusive time. We had to be 'atonal' exclusively. There was a certain kind of attitude. Everybody was sure that tonality was dead. Well, it was not even sick! [Laughter all around] What has happened is that it's been expanded enormously, more than we ever thought it could be. So we suddenly find ourselves with all this wonderful language you can use, instead of having to say you can only do this or you can only do that— which is a Nineteenth Century phenomenon. That was a period where there were new schools of painting, and new schools of poetry, but in music you had to do just one kind of thing, and say this is what it was. There was a certain canon everybody in the group agreed on, and we always had to say we were solidly against everybody else. We were going to be ourselves and impose our will on everyone else. Occasionally they do win the day for a while, and then that passes. It's always been like that, and in the meantime, each one has something that they have left for us. Nowadays, all you have to do is simply say this was an exclusive phenomenon rather than an inclusive phenomenon, where you have something new that you can add to this enormous amount of language that we are approving. We can do so many wonderful things now that we couldn't do a hundred years ago in music. One of our problems has been to box ourselves in with some sort of attitude. 
BD: Is this the advice you give to the young composers? 
WB: I see composers who try to deny some part of their background. I would say a good half of my students at the University of Michigan are ex-rockers, and there are an awful lot of them in other schools, too. Most of them are trying to just say good-bye to that whole life, which I can understand. It's very bad with all the drugs and everything else, but at the same time it's part of their lives. It's part of their background, and it would be silly for them to deny all that whole big hunk of their lives because there'll always be tripping over it. I say to them that they're going to have to come to terms with every part of their life because if they don't, at some point it will come bang, right up in their face and they won't be able to deal with it in any realistic way. So what I try to do is find a way for them to integrate their own lives with their own experience, because when they do this, they will end up with something that is truly theirs. 
BD: [With amazing foresight, considering the productions yet to come in Chicago!] Have you written an opera? 
WB: I've written two operas for actors — Dynamite Tonite and Greatshot — with the same librettist, a fellow named Arnold Weinstein, and just now we're starting on a third one called Casino. 
BD: What is an 'opera for actors'? 
WB: It is an opera where actors sing instead of singers sing! That was twenty-some years ago, (in 1961) my gosh! It was called Dynamite Tonite, and won a lot of awards. It kept getting revived, although it never made any kind of success on Broadway. It got to be known as 'the flop that wouldn't die' because the same people would come back and revive it. For several years it became a kind of reunion. All the people would somehow get out of their old jobs, and come back and sing it anyway because in the believed in the work. Today I wouldn't necessarily have to do that the same exclusive kind of way. 
BD: Why do you call them operas? Are they not really Musical Theater? 
WB: Because in an opera you sing all the time, and these people sang all the time. They weren't structured like a musical comedy at all. They were really structured like an opera but they sounded lighter. They were operas in that sense, but the people who sang them were actors. The reason I wanted to use actors instead of the singers — particularly twenty-five years ago — was that in those days, singers almost exclusively trained in what you might call 'singer-ese', or as Luciano Berio once put it, 'British-Italian', in which you have some sort of an attempt to put in Italian pure vowels and over-emphasize British consonants, which ends up sounding like gibberish. You really can't understand it at all. It sounds like Esperanto, and I was terribly concerned that somebody understand what's being sung. This is the kind of thing that was just assumed as a possibility in every musical culture, and everybody accepted it. Today we have gotten so inured to the idea of not being understood that people just decide to simply to go ahead and set words any way, and I think that would be a very academic exercise. I was interested in being understood, so I put up with the roughnesses and occasional mistakes that an actor would have because I wanted the reality of the actor's presentation. Also, I like the variety of the actors' voices. I love the fact that everyone sounded like themselves when they sang and talked — if they did have to talk. There wasn't that big schism between their speaking and their singing voices that you find in so many singers. Today, many singers have decided that it's time for them to work up their own kind of diction. One of the encouraging things that happened here at Grant Park was that I could understand most of the singing. They used diction that was really American. That was true with the chorus, and really was an attempt for Americans to sing to other Americans. When we do it in England on the BBC, then of course it will be British, and it will be 'Britishers' singing to other 'Britishers'. They'll be using their accent, which is absolutely legitimate, but I don't want them to sing as British-Italians. 
BD: [To Joan] Do you work terribly hard then at your diction especially in the popular songs? 
JM: I've always worked on it, but not so much on the diction itself as I take every piece as an acting piece. I take every song apart, put it in my own words and ask, "What is the message? What am I trying to say?" I make sure when I go back to the real words that I'm getting the message over to the people; that they understand the story. How are they going to laugh if they can't understand the words of a joke, or be touched if they don't know exactly what you're describing? I can't imagine getting up there and not wanting to be understood. I don't have a voice, just as an instrument, that can knock them dead in the aisles, so I emphasized my strong point, which is to appeal not only as beautiful sound. I use my voice as an instrument. 
WB: But your diction is one of the things that people always remark on. 
JM: Oh, it's true, they do, but then I say to them that nobody says Frank Sinatra or Elvis Presley has great diction. It's just taken for granted in popular music. Where did it ever get accepted that when you get up on the stage in opera you don't have to convince people the same way just because it's a familiar story? 
WB: Which is exactly why I used actors all these years! Now I'm suddenly encouraged by the younger performers more. I can understand them, and that's a new thing so that the new opera will actually be using both actors and singers. I'm interested in that, too. Just as what happened in the plays, I used an enormous variety of types of voice, and that's interesting to me. We have this now. We don't all sound the same. 
BD: You've done many popular songs by these various composers. Would you ever get involved in a full-length show by any one of them? 
It might be a very interesting idea. Certainly, revivals would be interesting. Our friend John McGlinn has been making something of a career reviving older musicals, and has done this all very well. We might do that. There are lots of things we'd like to do, especially when there's interesting material. We always look at the actual material. If it's wonderful and we really want to do it, fine, but I don't just want to do a show just to do a show. It's got to be a good show. 
JM: This August, in Charlemont, MA — at the Mohawk Trail Festival, which we've done almost every year for the last ten years — Sheldon Harnick will be composer-in-residence. We've gotten to know him a little bit, and we will work on a lot of his material to showcase it. 
WB: He composes as well as writes lyrics. He's a real musician. He played the violin for many years, and was trained as a musician here in Chicago. He got a music degree from Northwestern, so he's really a local product. He's a very nice guy, and extremely articulate, and I think he's the best lyricist around. He's just marvelous. 
JM: In fact, we had three of his songs on our new album, Lime Jello. One is The Boston Beguine, for which he wrote both words and music, and two that he wrote with Jerry Bock. One is called Artificial Flowers from Tenderloin, and one is 'Just a Map'... 
WB: …which was cut… 
JM: ...from The Rothschilds. 
BD: Do you look for songs that are cut out of town? 
JM: Sure. We look for whatever's good, and often as not we'll talk to the writers themselves. We will ask, "What do you like that hasn't been recorded? What would like to have done?" That'll elicit a whole kind of marvelous response. People are crazy to have things they thought were terrific that got lost. They'd love to have them shown, and we've had a lot of fun, for example, with Leiber and Stoller, who are very old friends of mine. One day I walked up to their office and said, "What do you want to have us do that we haven't seen or heard?", and one album came out of that. 
BD: Thank you for bringing your music to Chicago. 
WB: We hope to continue! 
---
© 1986 Bruce Duffie 
This conversation was recorded in Chicago on June 29, 1986. A copy of the unedited audio was placed in the Archive of Contemporary Music at Northwestern University. This transcription was made in 2017, and posted at http://www.bruceduffie.com/bolcom.html at that time. Thanks to British soprano Una Barry for her help in preparing this website presentation.
Award winning broadcaster Bruce Duffie was with WNIB, Classical 97 in Chicago from 1975 until its final moment as a classical station in February of 2001.  His interviews have also appeared in various magazines and journals since 1980, and he now continues his broadcast series on WNUR-FM.