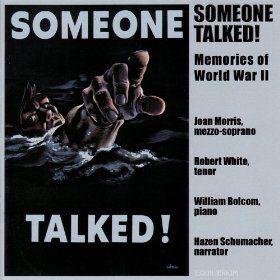 William Bolcom, pianist; Joan Morris,mezzo-soprano; Robert White, tenor; Hazen Schumacher, narrator 
Order now from http://www.equilibri.com/ 
The title of this CD is from a famous propaganda poster warning against revealing secrets to the enemy; the image is that of a drowning man pointing at the viewer with the message, "SOMEONE TALKED!" With pride and respect for those who sacrificed to preserve democracy during the turbulent years of World War II, Pulitzer-Prize-winning composer William Bolcom tickles the ivories as mezzo-soprano Joan Morris swoons and tenor Robert White croons - and on two occasions whistles - 19 memorable songs composed through 1945. 
Take a trip down memory lane while listening to The White Cliffs of Dover, G.I. Jive, Don't Sit Under The Apple Tree, Comin' In On a Wing And A Prayer, A Zoot Suit, Praise The Lord And Pass The Ammunition!, I'll Be Seeing You, This Is The Army, Mister Jones, and many more wonderful classics of the time composed by titans of the era such as the Ellingtons, Irving Berlin, Johnny Mercer, Lew Brown, Frank Loesser, and Jule Styne, to name just a few. All these works are beautifully stitched together with 20 narrations by NPR's "Jazz Revisited" host, Hazen Schumacher, that will transport you to the era of Victory Gardens and USO shows. You'll want to go out and Buy Bonds!
View the entire "Someone Talked!" concert, NYC Dec. 15, 2009
Visit our photo galleries to see photos from "Someone Talked!" concerts in New York and Ann Arbor.