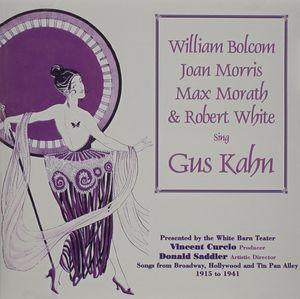 Original Cast Records (CD, 2004) 
purchase at amazon.com
William Bolcom (piano & vocals), Joan Morris (mezzo-soprano), Max Morath (vocals & piano) and Robert White (tenor) sing the works of lyricist Gus Kahn (1886-1941). Recorded live at the Lucille Lortel Theater in New York, 2004. Songs from Broadway, Hollywood, and Tin Pan Alley, 1915-1941. 
Contents 
1. Love me or Leave Me (from Whoopee, 1928) Walter Donaldson 
2. My Baby Just Cares for Me (from Whoopee, 1930) Walter Donaldson 
3. My Buddy (1922) Walter Donaldson 
4. I'm Through with Love (1931) Matt Malneck, Joeseph Livingston 
5. Day Dreaming (1941) Jerome Kern 
6. Nobody's Sweetheart (1923) E. Erdman, B. Myers, E. Schoebol 
7. Carolina in the Morning (from The Passing Show of 1922) Walter Donaldson 
8. Memories (1915) Egbert Van Alstyne 
9. San Fransisco (from the film San Francisco 1936) Bronislaw Kaper, Walter Jurmann 
10. Dream a Little Dream of Me (1931) Fabian Andre, Wilbur Schwandt 
11. Coquette (1928) Johnny Green, Carmen Lombardo 
12. Tomorrow is a Lovely Day (1937) Bronislaw Kaper, Walter Jurmann 
13. Guilty (1931) Harry Akst, Richard Whiting 
14. Makin' Whoopee (from Whoopee, 1928) Walter Donaldson 
15. Liza (from Show Girl, 1929) George and Ira Gershwin 
16. It Had to be You/Pretty Baby (from World of Pleasure, 1915 and Passing Show of 1919) Isham James, Tony Jackson, 
Egbert Van Alstyne 
17. Your Eyes Have Told Me So (1919) Egbert Van Alstyne, Walter Blaufuss 
18. Sometime (1925) Ted Fio Rito 
19. The One I Love (1924) Isham Jones 
20. You Stepped Out of a Dream (from Ziegfeld Girl, 1941) Nacio Herb Brown 
21. I Must be Home by 12 O'Clock (1929) George and Ira Gershwin 
22. I'll See You in My Dreams (1924) Isham Jones 
23. Toot Toot Tootsie/Yes Sir That's My Baby (from Bombo, 1921) Ernie Erdman, Dan Russo, Walter Donaldson 
24. Ain't We Got Fun? (1926) Richard Whiting, Raymond B. Eagan