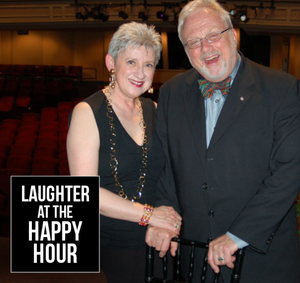 Celebrate Joan's birthday on February 10 with another edition of Laughter at the Happy Hour! 
February 10th is Joan Morris's birthday, and we couldn't think of a better way to celebrate it than to feature Joan and Bill for another next installment of Laughter at the Happy Hour. "One thing I loved about the Hobbit books," Joan says, "is that on their birthdays, hobbits give presents to other people instead. So that's what this program will be–my birthday present to our audience!" 
Joan and Bill, along with the SongFest Art Song Festival at Colburn, have graciously shared a concert video with us so that we can share it with you for Joan's birthday. These excerpts from An Evening of Popular Song, presented in 2012 at Thayer Hall in Los Angeles, California, include songs from The Great American Songbook and feature Joan and Bill, but also, baritone William Sharp, soprano Amy Burton and pianist/composer, John Musto. A very special archival performance from these important and expressive artists!
Tune into "Live at the 415" at  5:30 PM EDT on February 10, 2021 at:https://www.kerrytownconcerthouse.com/live-at-the-415/